IncaFé

Boosts Sustainability with Compostable Bags October 10, 2019
IncaFé Organic Coffee has adopted Econic®Kraft compostable packaging as part of their ongoing quest to reduce their carbon footprint and help reduce plastic packaging use.
The New Zealand owned New Plymouth-based company is committed to running their business as sustainably as possible, from bush to cup. They have been carboNZero certified since 2008, their organic coffee is BioGro and Fairtrade certified, and they operate a unique supply chain that supports around 120 coffee growing families in Peru.
Joop Verbeek, who runs IncaFé with his Peruvian partner Carmen Castro Says, "Our aim is to be the most sustainable coffee company possible. We've always been leading from the front with new ways of doing that, which is why we started talking to Convex about compostable packaging."
IncaFé launched their 200g retail bags in EconicKraft packaging in March after an extensive development process to ensure the rewind film would process well on their vertical form, fill and seal packaging machine. They are now working with Convex to develop a 1kg EconicKraft wholesale pack, which they hope to have in the marketplace place soon.
Joop says, "The Convex technical team have been really helpful and the new compostable packs have been very positively received by our customers."
IncaFé's EconicKraft packaging is made in New Zealand by Convex from a combination of compostable films derived from sustainably-produced wood pulp and GM-free corn sources. The bags are designed to break down in a home composting environment containing heat, water, oxygen soil and micro-organisms.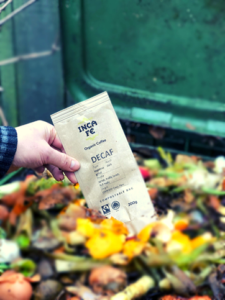 Joop confirmed the compostability of the EconicKraft bag's by placing some in his own home compost bin and then checking them two months later to find them, "on their way to disappearing".
Along with doing everything they can to be environmentally sustainable, IncaFé is also dedicated to supporting organic agriculture and the people who work the land. They source 95% of their coffee from the Coopchebi cooperative in central Peru and have been actively supporting their community of around 120 growing families since 2006. They have also established a joint venture with their main growers, called IncaFé Peru, which has invested in a long-established coffee processing plant to optimise the quality of the green coffee that IncaFé uses to roast their own branded coffee and several private label coffees for the Australasian retail trade.
Joop says, "Our mission statement is to increase the quality and availability of organic coffee in New Zealand in a sustainable way. To help achieve that, we maintain close relationships with our growers in Peru to help ensure maximum quality for our coffee. We also do all we can to work on low margins and order in high volumes to optimise returns for our growers and make the price of our organic coffee accessible to a much broader audience. Or goal is that every time someone drinks a cup of IncaFé coffee they are supporting organic agriculture and helping to maintain the livelihood of our growers.
IncaFé Organic Coffee is available from supermarkets and other retail outlets throughout New Zealand, in selected stores in Australia, Taiwan and Malaysia, and via their website. They also supply green coffee to boutique roasters and individuals who roast their own coffee at home and provide a high quality private label roasting service.
You can find out more at: www.incafe.co.nz
---