Cereal
---
The high barriers and robust sealing provided by Econic® packaging will help lock in the taste and freshness of cereal.
Econic packaging works well for flow wrap applications and provides the same functionality as traditional fossil fuel-based films with the added advantage of being home compostable – making it the ideal environmentally-responsible packaging choice.
Our multiple award-winning eight-colour custom-printing will help add impact of cereal by boosting its branding and shelf appeal.
---
Hear what our customers have to say!
"The high moisture, oxygen an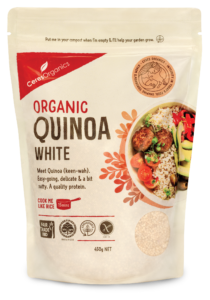 d sealing barriers provided by EconicClear have allowed us to maintain our stringent quality control requirements, while staying true to our brand values. This new home-compostable pouch is an exciting step towards reducing the amount of plastic being sent to landfill."
– Noel Josephson, Managing Director, Ceres Organics, Auckland, New Zealand Read more