Produce

and Salads
---
A high clarity moisture-resistant home compostable film called EcoClear™ has been developed to provide a cost effective eco-friendly solution for packing fresh salad greens. It's low oxygen and moisture barriers make it ideal for packing fresh produce that require a shelf life of approximately 10 days.
EcoClear packaging is a single-layer variant of our moisture-resistant Econic
®
Clear multi-layer laminated packaging, and provides a similar level of compostability and clarity. It is made from a mix of compostable materials derived from fossil fuels and sustainably-grown GM-free corn. The base raw material has been certified to meet the European and American commercial compostability standards EN 13432 and ASTM6400, and the European and Australian home composting standards, OK Compost Home and AS5810.
Although we strive to make our compostable films with as much renewable content as possible, we are currently not able to do this with EcoClear packaging due to the compostable materials available at this time. We are marketing EcoClear packaging as a separate brand as it does not fit within the Econic packaging brand criteria of having the majority of its material mix derived from renewable resources. EcoClear film also provides lower barrier properties than the films that are branded Econic
Because moisture is one of the catalysts in the natural composting process, packing produce in EcoClear for long periods is not recommended.
---
Hear what our customers have to say!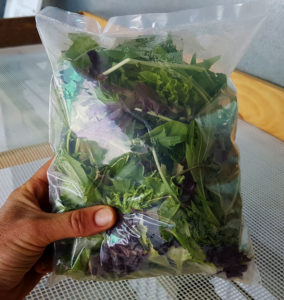 "The great thing about these bags is that they can break down in a home compost, whereas most compostable packaging is only suitable for commercial composting.
It was really important to us that our bags could both keep the product perfectly fresh and also be sustainably disposed of at homes, and we're loving hearing that our customers are composting themselves. We've had plenty of positive feedback from moving to these new bags and we are happy with the way they are working."
– Jenny Lux, Owner, Lux Organics, Rotorua, New Zealand