EcoClear

Produce Bags Ideal for Zero Waste Markets April 18, 2023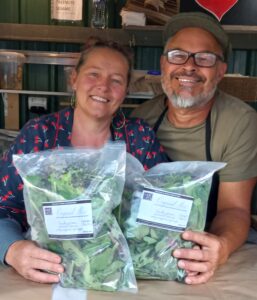 Liz Bennet and partner Andy Smith have been packing their fresh produce in home compostable EcoClear bags for almost five years.
Convex EcoClear™ bags have enabled Kauri Creek Gardens to meet the zero waste requirements of their eco-conscious customers and keep their produce fresh.
The Northland market garden has been using EcoClear bags to sell their organically grown salad mixes and baby leaf greens at the zero waste Matakana Village & Farmer's Market for almost five years. They also supply produce packed in EcoClear to several stores in the Warkworth and Snells Beach area, with ongoing positive feedback.
Kauri Creek Gardens owner, Liz Bennet says, "Everybody was very pleased when we started using the home compostable bags and the response we get continues to be very good. We've got a very loyal local following, especially for our popular hand-crafted Herbilicious mix, which contains up to 18 different leaves."
One of the key selling points for Kauri Creek Salads is their exceptional freshness and taste. They are sold almost immediately after harvesting, ensuring they are super fresh, and the raised beds they are gown in are fertilised with flavour-enhancing seaweed emulsions sourced from the nearby beaches.
EcoClear bags were specifically designed by Convex New Zealand to provide a functional, eco-friendly packaging solution for fresh produce. It's low oxygen and moisture barriers help retain freshness, and is ideal for packing produce with a shelf life requirement of less than 10 days. The base raw material used to make the bags is certified to the European and Australian home compostable standards: OK Compost Home and AS5810.
Kauri Creek Gardens use the EcoClear bags throughout the year to pack various seasonal produce, including baby leaf spinach in winter. Anything that doesn't get sold is composted and recycled back into nature.
Liz says, "I compost all our discarded bags and they break down well. We are very pleased to have a home compostable bag that is made in New Zealand. We have a great relationship with Convex. They are very easy to work with and their bags keep our salads fresh and help both us and our customers reduce landfill waste."
You can learn more by visiting: www.kauricreek.net or www.facebook.com/kauricreekgardens
---