Econic

Helps Rush to Eliminate Single-Use Plastic August 25, 2022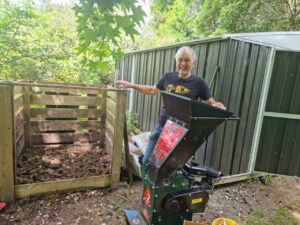 Rush Coffee Head Roaster, Hayden, taking time to mulch and compost his customers' used Econic packs.
Rush Coffee has demonstrated their commitment to eliminating single-use plastic by adopting Econic® home compostable packaging and providing a compost service for their customers' used bags.
The multiple award-winning boutique roastery started using EconicSnow packs in 2020 and made it a priority to offer a return service for customers who are not able to compost their used bags themselves. They now offer a pick-up service to their local cafes, collect used bags from customers at their local community market in the Northland town of Mangawhai, and invite customers from around New Zealand to send their used packs back to them for composting. Once returned, the used bags are composted on Rush Coffee's rural property and used to nourish their garden.
Rush Coffee made the switch to EconicSnow packaging after searching for the most eco-friendly packaging they could find.
Head Roaster, Hayden Prujean says, "We were looking to minimise waste in our business and home compostable packaging was the only real viable option we could see. There's a lot that we're doing to reduce our waste stream, including refilling reusable plastic packaging at our local market, and EconicSnow has allowed us to move right away from using single-use plastic."
Hayden says the transition to home compostable packaging was a bit challenging at times due to having to try a few different things to get the functionality they wanted, but he is happy they stuck with their commitment to make the change.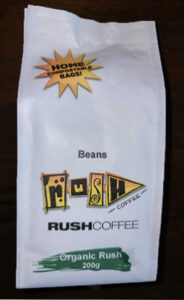 He says, "We've had some really positive feedback from our customers since we made the change to more eco-friendly packaging, and the bags are now working well. It's definitely worth the effort to move away from traditional plastic packaging. People need to realise that there's a reason why plastic has taken over the world. It's got great utility, it's really tough and resilient, it's cheap and it never breaks down – and that's why it's so harmful for the environment."
EconicSnow packaging is made by Convex New Zealand from two certified home compostable films derived from sustainably-produced wood pulp and GM-free corn sources and a white paper outer layer derived from fibre supplied by certified sustainably-managed forests.
Heralded as New Zealand's most awarded coffee, Rush Coffee's flagship blend – Rush Espresso – has won 14 medals since 2009 in both local and international competitions, including five gold medals.
Hayden says, "We are very proud of what we do. We've won the top espresso in the country a number of times, we use compostable packaging, and we provide our customers with consistently delicious coffee at an affordable price."
Rush Coffee is available throughout New Zealand from their website and selected cafes and retail outlets and is also served at the Rarotonga airport café. You can find out more here: rushcoffee.co.nz
---