Fair

Trade Chocolate Packed in Compostable Wraps August 31, 2014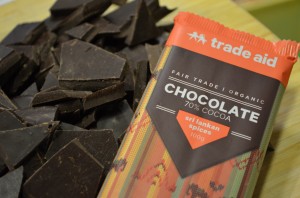 The world's first Fair Trade organisation manufacturing 100% Fair Trade organic chocolate has sweetened their sustainability with Econic® compostable packaging.
Christchurch-based not-for-profit organisation Trade Aid is using Econic compostable wraps to help minimise the environmental impact of their new chocolate factory, which opened in early August.
The first chocolate being produced by Trade Aid is a range of five 100g Fair Trade organic chocolate bars made from ingredients sourced directly from third world growers.  The bars will be launched in early September in eye-catching Econic packaging featuring the country of origin of the main flavours.
Trade Aid's Econic wrappers are made from three compostable films that are laminated together to lock in the packaged product's freshness, taste and flavour. Each film has been internationally certified to the European and American compostability standards EN 13432 and ASTM6400.
Trade Aid Marketing & Brand Manager John Miller says, "Using Econic completes the whole circuit for us. We're doing good things with the way we produce chocolate and the way we help small-scale farmers improve their lives around the world, and we want to balance that activity with the lowest possible environmental impact."
Widely regarded as a Fair Trade pioneer, Trade Aid has been supporting small-scale producers through sustainable income generation for over four decades. They import over 3,000 products from 62 trading partners worldwide, and sell them in Trade Aid shops throughout New Zealand and a growing number of other outlets.
In 2010 Trade Aid was the first adopter of Econic packaging when they used it to pack their organic instant coffee. Now in 2014 Trade Aid has spearheaded another Econic innovation by being the first organisation to use it to wrap chocolate.
John says, "People universally love the look of our new Econic® packaging. Our chocolate was previously contract manufactured and packed in metal foil and paper. People prefer the look of the new bars and say they look a lot more professional and classy. That's a great outcome."
Trade Aid is already fielding enquiries for their new chocolate bars from Fair Trade supermarkets and organic stores in several countries, including the USA, Australia and Japan. Convex Managing Director Owen Embling says, "It is a real privilege working with dedicated organisations like Trade Aid who are prepared to step out and do what has never been done before to make a positive difference in our world."
You can find out more about Trade Aid by visiting: www.tradeaid.org.nz
See Trade Aid Chocolate on CTV News https://www.youtube.com/watch?v=3PjoS8qf374
---