Econic

Perfect for Women's Wholefood PMS Supplements July 6, 2022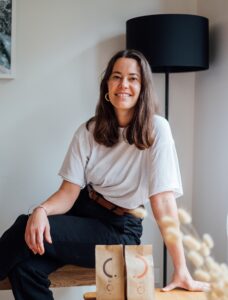 Seed Cycle Blend Owner, Rochelle Marreiros, with her eye-catching EconicKraft supplement packs.
EconicKraft home compostable packaging is helping Seed Cycle Blend support women across the globe to enjoy natural and sustainable, pain-free cycles.
Designed to alleviate menstrual symptoms caused by imbalanced hormones, the certified organic Seed Cycle Blend supplements are made in New Zealand and shipped to multiple countries, including the USA, UK and Australia. The supplements receive regular positive feedback about the life-changing relief they provide as well as the eco-friendly packaging.
Seed Cycle Blend has been using ready-made EconicKraft packaging since they first started business in 2020, which is supplied and digitally-printed for them by the Econic online store. The packs are made by Convex New Zealand from three certified home compostable films derived from sustainably-produced wood pulp and GM-free corn sources and are designed to break down in a composting environment containing heat, water, oxygen, soil and micro-organisms.
Owner Rochelle Marreiros says, "It was essential to me that Seed Cycle Blend was created consciously with high vitality ingredients and packaging that was made to leave no trace. The EconicKraft packs are working really well for our product. The people who come to us are looking for a natural solution for their PMS, cramps or acne and they really appreciate that we use compostable packaging in line with their values."
Being able to get small runs of her packs custom-printed for an affordable price was also essential for Rochelle.
She says "As a small business owner, I needed an economical printing option that wasn't going to put me out of pocket. Most printers require you to do big runs of 10,000 or more, which is hard to afford when you are just starting out. The digital printing service provided by the Econic online store is great. It lets me get small runs printed whenever I need them, quickly, easily and affordably."
Rochelle developed Seed Cycle Blend after finding an effective natural solution to her own monthly debilitating cramps and PMS symptoms, after a search of many years.
She says, "I was really excited when I realised that creating this product meant the life changing results that I received could also be experienced by others. Instead of suffering, women can support their cycles naturally with a whole food supplement like Seed Cycle Blend. 89% of our customers have reported a significant reduction in PMS symptoms, with many more success stories like increased fertility and reduced PCOS symptoms, which shows the value of the nutrition support provided by our products."
Seed Cycle Blend is sold by subscription to provide ongoing monthly cycle care. You can learn more at: seedcycleblend.com
---