Supermarket

Specialty Coffee Launched in Econic June 28, 2022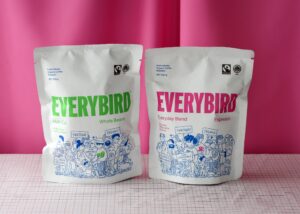 Kōkako Organic Coffee has continued to spearhead sustainable innovation in the specialty coffee sector by launching their new dedicated grocery brand, Everybird, in Econic® home compostable packaging.
The Auckland-based coffee roasters are long-standing sustainable packaging pioneers. Along with being certified Fairtrade, organic, and climate neutral; they won the NZI National Sustainable Business Network award, Small Business Trailblazer in 2012, and have been using Econic packaging for their Kōkako-branded drinking chocolate and coffee beans for over seven years.
Everybird was launched in March 2022 in the first customised EconicSnow stand-up pouch made by Convex, with sticker valves automatically inserted during production to vent the gasses emitted from the fresh beans. The packs are made from three certified home compostable films derived from sustainably-produced wood pulp and GM-free corn sources and are designed to break down in a composting environment containing heat, water, oxygen, soil and micro-organisms.
Everybird Brand Manager, Sam Taylor says after 20 years focusing on the hospitality industry, Kōkako decided to expand into the grocery sector in an effort to bring ethically sourced coffee to more people around Aotearoa.
Sam says, "Everything has changed in the last few years, the way we work, the way we socialise, the way we shop. Retail is fast changing too; and we think this is the right time to deliver something new and exciting to the coffee aisle."
Everybird is available in two blends: Everyday and Half-Caf. Both blends have been carefully crafted with super approachable flavour profiles and are available as whole beans, plunger grind and espresso grind.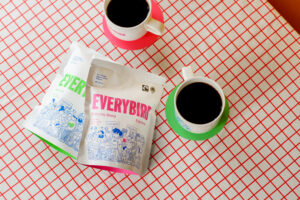 Sam describes the Everyday Blend as `an outright crowd-pleaser'. It's bold, a bit chocolatey, a bit biscuity, suited to all brew methods and just as delicious black as it is with milk or milk alternatives.
Everybird Half-Caf is ideal for people who want all the flavour, but only half the caffeine. It's made with 50% full strength Everyday Blend, and 50% Swiss Water® Decaf (decaffeinated in Canada using only time, temperature and water).
Sam says, "We're particularly excited about Half-Caf as it creates more opportunity for consumers to enjoy coffee throughout the day and follows similar trends in the craft beer sector where moderation has seen low and zero alcohol beer sales soar. We expect Half-Caf to be a real category driver and appeal to a wider cross section of consumers."
Everybird can be purchased online and from a growing number of grocery stores throughout New Zealand.
To find a store near you, or read more about Everybird specialty coffee, visit: www.everybird.co.nz
---