Single-Serve

Sachets Ideal for Eco Sample Packs November 30, 2021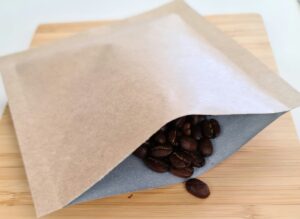 Small home compostable sachets are now available to help market single-serve dry goods and promotional samples to discerning, eco-conscious consumers. Measuring 140 mm x 140 mm, these New Zealand-made sachets are perfect for packing a wide range of dry products from coffee and protein powder to dehydrated tramping food. They have even been used by Airbnb hosts for packing plunger coffee.
The sachets are available for instant ordering in both EconicKraft (pictured) and EconicSnow, which has a white paper exterior. Both sachet variants are made by Convex New Zealand from three certified home compostable films derived from sustainably produced wood and corn sources.
Both sachet variants offer a winning combination of a metalised interior with high oxygen and moisture barrier properties and a natural looking paper outer. They are able to be custom-printed using the unique online digital service offered by Convex New Zealand's authorised Econic wholesaler.
---