Online

Digital Printing Now Available for Econic November 10, 2020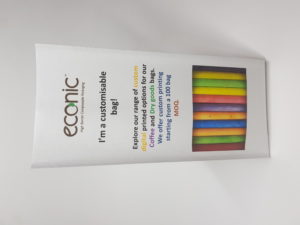 Custom-printed ready-made bags can now be ordered through our online store, with a turnaround time of just 10 days. 
The recent addition of a self-service online digital printing portal for ready-made EconicSnow and EconicKraft packs is allowing businesses of all sizes to order custom-branded compostable packs online, in quantities as low as 100.
Managed by Ember Asset Management in collaboration with Convex New Zealand, the Econic online store spent two years looking for a quick and affordable printing solution for ready-made Econic bags. A solution was found by partnering with a UK company to develop an online ordering portal that is believed to be a world first.
Ember Asset Management owner, Cyrano Embling says, "Our new digital printing service allows our customers to upload their own images and get the printing results they want for orders from 100 to 15,000 bags, and anywhere in between. It's more cost effective than using label sticklers to brand the bags, and takes a lot less time. The water-based inks we use are non-toxic with no heavy metals, and do not affect the compostability of the packaging in any way."
The Econic online store markets a growing range of ready-made Econic stock packaging, which is all manufactured in New Zealand. Their goal is to provide an efficient and simple self-service experience for innovative companies wanting to minimise their impact on the environment.
Cyrano says, "One of the big advantages we offer our customers is the ability to better manage their cash flow. They can order their packaging as and when they need it, with no need to commit to a minimum annual amount. We can deliver to any postal address in New Zealand, and to most Australian cities within two days. We also ship product by fast courier to several other countries around the world, including Canada."
---