New

Clear Compostable Pack for Premium Pet Treats July 9, 2015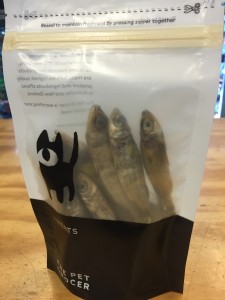 An innovative boutique pet store has combined their passion for animals, sustainability and transparency to help Convex develop a new high clarity compostable pack.
The new Econic®Clear packs were specifically designed for The Pet Grocer in Melbourne to allow their customers to view their premium natural pet treats.
The Pet Grocer's launch of EconicClear in mid-June has allowed the trend-setting independent pet store to be first to market with a new environmentally-friendly pack that delivers their desired shelf appeal and shelf life. The packs also feature a compostable zip closure to make it easy for pet owners to reseal the bags.
The Pet Grocer owners, Jason and Janine McIver, initially requested a clear version of Convex's high barrier Econic packaging, which is made from three compostable films. To achieve the required high clarity, Convex custom-developed a duplex version of Econic with a high oxygen barrier and moderate moisture barrier, which is ideal for packing dry goods such as pet treats and cereals.
The two compostable films used to make The Pet Grocer's EconicClear pack are derived from sustainably-produced wood pulp and have both been internationally certified to the European and American compostability standards (EN 13432 and ASTM6400).
Based at the South Melbourne market, The Pet Grocer takes pride in providing high quality natural pet foods that enhance the overall wellbeing of companion animals. Their treat selections utilise innovative dehydration methods that help maintain maximum nutrient integrity of wholesome pet delicacies, such as dehydrated whole fish.
Jason says, "It was really important to us to find a company that could provide a stable, high quality compostable pack that meets our high value for sustainability and transparency. Convex have listened and helped us all the way, and we are very pleased with the result."
In addition to EconicClear, Convex have also provided The Pet Grocer with clear compostable cellophane inners for their pet treat gift packs.
Convex Managing Director Owen Embling says, "The Pet Grocer has helped us expand our range of functional compostable packaging options. It's always a privilege working with innovative companies who want to make a positive change. At first it looked like we wouldn't be able to make a clear version of Econic, but by persevering and adjusting the film combinations, we were able to make a commercially viable high clarity pack that works well for dry food. While this initial EconicClear offering is not suitable for products requiring a high moisture barrier, like coffee and drinking chocolate, we are diligently investigating new film formulations and I'm confident we'll have more high clarity compostable options in the future."
EconicClear is compostable when disposed of in a composting environment containing heat, water, oxygen, soil and micro-organisms.
You can find out more about The Pet Grocer by visiting: www.thepetgrocer.com
---