Lux

Organics Pioneers Home Compostable Produce Packs January 7, 2020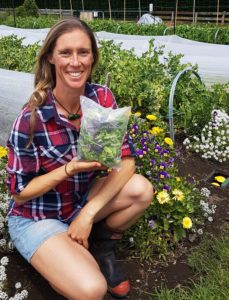 Jenny Lux with her EcoClear produce pack
A small family farm's passion to reduce their use of plastic has helped drive the development of a functional home compostable produce bag.
Jenny Lux approached Convex New Zealand Ltd two years' ago with a request for a home compostable bag for her delicate greens. After 15 months of trialling, EcoClear™ was developed and Jenny and her husband Richard Gillies' business, Lux Organics, was its very first user.
The clear, moisture-resistant EcoClear bags were specifically developed by Convex to provide a cost effective eco-friendly solution for packing fresh salad greens. Its low oxygen and moisture barriers make it ideal for packing fresh produce that require a shelf life of less than 10 days. The base raw material used to make the bags is certified to the European and Australian home compostable standards: OK Compost Home and AS5810.
Convex Managing Director, Owen Embling says, "Jenny is a great example of how one person's passion can make a positive difference for the environment. Because of Jenny's tenacity to work with us to find a solution, we managed to develop a functional compostable film that works well for wet products with a short shelf life. Creating a moisture-resistant compostable bag was previously thought impossible due to water being a catalyst in the natural composting process. We now have new customers ordering EcoClear almost every month, which is reducing the amount of plastic being used on an ongoing basis."
Based in Ngongotaha, near Rotorua, Lux Organics grows certified organic vegetables, microgreens and herbs for their local market. Along with supplying several food businesses, Lux Organics also sells direct to consumers through the Brown Owl Organics co-operative and their new Community Supported Agriculture initiative that provides members with a box of fresh vegies each week.
Jenny says, "We pride ourselves on being certified organic and growing food with low carbon emissions and waste. We order around 10,000 EcoClear bags a year, and we're just a small family farm. Just imagine how much plastic would be saved if bigger salad growers used compostable bags?"
Jenny has encouraged many other growers and market gardens around New Zealand to start using the bags and is keen to see some larger businesses using them.
She says, "Given that we've got a local manufacturer of home compostable bags, I don't see why so many people are still using plastic. The EcoClear bags provide the best outcome in terms of composting that we've found and they keep our vegies fresh."
Working with a New Zealand manufacturer is a big plus for Lux Organics. Jenny has been given a tour of the Convex factory in Hamilton where her bags are made, and the Convex managing director has visited her Ngongotaha farm.
Jenny says, "We really like working with a New Zealand company because we can know them personally. Knowing and trusting the maker, and knowing that they have checked the specs of the bag is very important to us. We also love how Convex supports small businesses like ours by allowing us to order as many as we need, when we need them."
EcoClear has been well received by Lux Organics' customers.
Jenny says, "Our sales went up when we started using compostable bags because people were happier to be buying things in the bags, knowing that they were compostable."
"We're happy with the packs. They are a pleasure to use and they work for fresh produce."
 Visit Lux Organics at: luxorganics.co.nz or facebook.com/luxorganics
Learn more about EcoClear here: econicpackaging.com
---