Fresh

Roasted Coffee Company Launches New Compostable Packaging May 26, 2011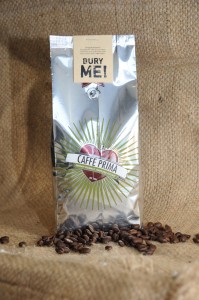 A Christchurch company has now made it possible to enjoy a cup of fresh roasted coffee and help save the environment too.
Caffe Prima has made drinking their sustainably- produced Fair Trade and other boutique coffees an even more satisfying experience by introducing New Zealand's first compostable coffee pack for fresh roasted coffee.
Believed to be the first packaging of its kind in the world – the new Econic coffee bags used by Caffe Prima are made by Convex from three separate compostable films, which are laminated together to lock in the coffee's optimum freshness, taste and flavour.
The three films are derived from sustainably-produced wood pulp and corn sources and have all been internationally certified to the British Standard EN13432 for composting and biodegradability.
Caffe Prima has been at the forefront of the New Zealand coffee industry since their establishment in 1995. Over that time coffee consumption in New Zealand has increased dramatically with a resulting huge increase in non-renewable packaging waste. Late last year the company made the decision to switch to Econic packaging as part of their commitment to produce great tasting coffee that is also socially and environmentally responsible.
Caffe Prima owner Geoff Johnson says, "Caffe Prima literally means 'first coffee', and we are committed to the creation of excellence in all roasts and methods of coffee making. That commitment also includes the use of market-leading sustainable packaging. The earthquake delayed the launch of our new packaging but hasn't stopped us moving forward."
Christchurch-based Caffe Prima had to shut down for a short time after the February earthquake, but that hasn't stopped the contract coffee roasting business from growing. The company has taken on two new staff since February and expects to be employing more staff in the near future.
The new Kiwi-designed Econic coffee packsare a perfect reflection of the Caffe Prima company motto: `grown globally, perfected locally'.
The Econic packs have been specifically developed by Convex to provide the ideal sealing and barrier properties for coffee and dry foods.
As well as developing the new Econic packaging, Convex also carried out a controlled composting trial at a Waikato bark composting facility last year to verify its breakdown rate.The Econic packs started to soften two weeks after composting, and had almost completely disappeared after just fourteen weeks, with only small fragments remaining.
Convex National Sales and Marketing Manager, Howard Clark says the results of the composting trial confirm that empty Caffe Prima bags will break down well in a home composting environment.
Howard says, "The development of Econic is a result of extensive trials we have carried out over the past ten years to develop functional sustainable packaging options for a variety of applications. We are committed to continue taking a lead in sustainable packaging and to work with innovative companies like Caffe Prima to help reduce landfill waste."
You can find out more about Caffe Prima by visiting: www.caffeprima.co.nz
---