EconicClear

Picked to Pack Tassie Wagyu Beef March 24, 2021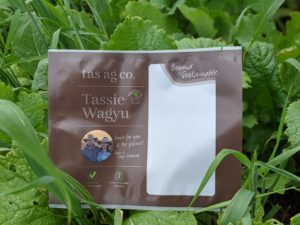 An exciting new range of planet-friendly Wagyu beef is now available in Australia, packed in Econic®Clear home compostable vacuum-packs.
The Tasmanian Agricultural Company (Tas Ag Co) launched its beef product in February, providing consumers with a premium `Beyond Sustainable' meat option.
Dedicated to reversing climate change, Tas Ag Co uses regenerative farming practices to draw down greenhouse gasses out of the atmosphere and store them in the soil. Their cattle play a key role by keeping the pastures in a constant state of growth through rotational grazing methods. Currently, it's estimated that through their regenerative practices, Tas Ag Co can offset the emissions of about 500 homes each year, with the aim of continuously increasing this number.
Tas Ag Co founders, Sam and Steph Trethewey, gave up their corporate careers to follow their passion to produce carbon positive beef. In 2019, they were the first farm in Tasmania to register a soil carbon project through Australia's $2.5 billion Emissions Reduction Fund, using the only soil carbon measuring protocol eligible under the United Nations Paris Agreement.
Steph, a former television journalist says, "We're trying really hard to create change.
Our ultimate mission is to be carbon positive and we're doing that through the way we farm. Releasing a regenerative beef product into the retail market packed in traditional plastic did not sit well with us so we sought out the most environmentally-friendly meat packaging we could find."
Tas Ag Co decided to pack their Tassie Wagyu in home compostable vacuum-packs made from moisture-resistant EconicClear film. EconicClear is made by Convex New Zealand from a combination of compostable films that have been certified to either the European or Australian home compostable standards: OK Compost Home or AS5810.
Steph says, "As a consumer-facing brand it was really important for us to stay true to our values and for our customers to see that we really do mean business when it comes to the environment and our impact on it. Using EconicClear packaging plays in really nicely with our overall brand strategy and our focus on farming regeneratively. We're very excited to be working with Convex. We've had great reception to our bags from consumers and the market in general."
Tas Ag Co's product is currently available at all 10 Hill Street Grocer stores across Tasmania, with Sam and Steph currently planning their Australia-wide launch in other states.
You can find out more at: www.tasagco.com.au or Instagram: @tas_ag_co
---