Econic

Packaging Perfect for Addictively Tasty Keto Snacks March 29, 2022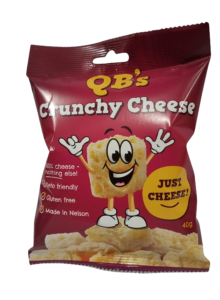 A new crunchy cheese snack has been launched in Econic®Classic high barrier home compostable packaging to provide a tasty and convenient no-carb snack that is also kind to the environment.
Kia Rere Innovations developed QB's Crunchy Cheese Snacks to provide a tasty, easy-to-eat snack option for people on Keto and gluten-free diets. They are especially ideal for people wanting a healthy no-carb cheese product that doesn't need to be in the fridge when they travel around or go camping and tramping.
Owner Graham Manson, who follows a Keto diet himself, says he was inspired to create the new cheese snacks after struggling to find carb-free snacks that taste good.
Graham says, "I found most of the available keto products really dry and hard to swallow. That led me to search for something more palatable that meets the keto requirements. We knew we had the recipe right when our customers told us they couldn't stop eating them."
QB's Crunchy Cheese Snacks are made in Nelson, New Zealand from locally-sourced ingredients and have been described by customers as, `tasting so good they're addictive'.
Graham says EconicClassic packaging is a good fit with their eco-friendly ethos and desire to work with local suppliers.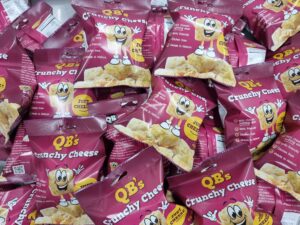 EconicClassic packaging is made by Convex New Zealand from a combination of compostable films that are laminated together to lock in the freshness and flavour of dry products. Each film used to make the final packaging structure has been certified as home compostable and derived from either sustainably-produced wood pulp or GM-free corn sources.
After initially launching the product in sample packs with adhesive labels in November 2021, the company moved to a custom-printed triplex rewind EconicClassic film in February, which allows them to make their own bags as needed on their own on-site packaging machine.
Graham says, "We are really excited about what we are doing and want it to be fun and engaging brand. Econic packaging has really sealed in the freshness and flavour while providing a guilt free way of packaging QB's. Our customers are stoked it's home compostable!"
"I highly recommend any start-up looking to use home composable packaging to get in touch with Convex."
QB's Crunchy Cheese Snacks can be purchased at the Nelson Market, through selected online New Zealand keto stores, retailers in the Nelson area, and they can also be ordered by messaging the Crunchy Cheese Snacks Facebook page:  https://www.facebook.com/Crunchy-cheese-snacks-106576608278009
---