Econic

Packaging Launched by Loving Earth March 10, 2014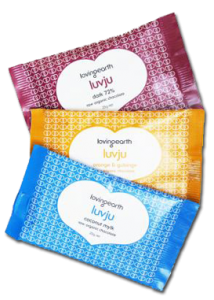 Melbourne-based Loving Earth has taken further steps to ensure the eco-friendliness and freshness of their raw organic cereals and superfood bars by adopting high performance compostable packaging.
The launch in March of Loving Earth Luvju bars in high barrier Econic® compostable packaging has improved the sustainability of the packaging and boosted the shelf life of the Luvju bars.
Econic is being used to pack seven varieties of Luvju bars: three fruit and nut flavours and four chocolate flavours.
Loving Earth product manager, Bronwyn Johnson says,"It's great to be able to say that our packaging is compostable, it's not going to cost the earth, and it's quite unique compared to anything else on the market. The bags look really professional and can position themselves really well against any of the big brands."
Loving Earth's Econic wrappers are made by Convex from three compostable films that are laminated together to lock in the freshness, taste and flavour of coffee and dry products. The three films are derived from sustainably-produced wood pulp and GM-free corn sources. Each film has been internationally certified to the European and American compostability standards EN 13432 and ASTM6400. Econic is compostable when disposed of in a composting environment containing heat, water, oxygen, soil and micro-organisms.
Bronwyn says, "The barrier the packaging film offers is a high priority for Loving Earth because we don't rely on anything unnatural – like preservatives, flavours or emulsifiers – to keep our products fresh. We only use really simple organic premium ingredients. At the end of the day if you are going to use a compostable film you need to make sure it will keep the product fresh, and we are confident Econic will do that. The top layer of the Econic film also provides a great printing surface."
Loving Earth Luvju superfood bars are available to purchase online and in health food stores and speciality food retailers throughout Australia and New Zealand.
For more information visit: www.lovingearth.net
---