Econic

Enhances the Sustainability of Loving Earth Chocolate December 7, 2016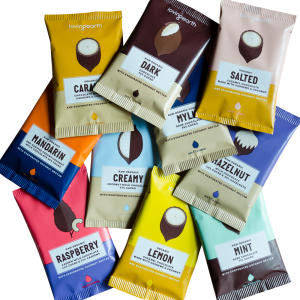 Convex compostable packaging is helping Loving Earth sustainably support indigenous communities and the environment.
Loving Earth adopted Convex Econic packaging in 2014 to help ensure the eco-friendliness and freshness of their organic chocolates. The Melbourne-based company is now using Econic to wrap their signature 30g Chocolate LUV hearts range, which was rebranded in 2015.
Loving Earth founder and managing director Scott Fry says, "Collaborating with indigenous growers is core to our philosophy. A further key element is our commitment to sourcing sustainable packaging."
Econic packaging is made by Convex from compostable films derived from sustainably-produced wood pulp and corn sources. The high barriers Econic provides ensure Loving Earth's organic products stay fresh without the use of any unnatural additives.
Along with supporting the environment, Loving Earth is dedicated to supporting small producer communities across the planet become more self-sufficient and sustainable. They do this by using the organic ingredients they produce to create healthy Fair Trade products.
One of Loving Earth's key relationships is with the largest indigenous community in Peru, called the Ashaninka. Loving Earth uses the cacao that the Ashaninka grow at the source of the Amazon River in all eleven of their chocolate bars.
In 2015, Loving Earth helped the Ashaninka establish a certified organic, fair trade cooperative. They then committed to buying the Ashaninka's entire cacao harvest at a price significantly higher than they were previously receiving. Within one year the Ashaninka's annual cacao production jumped from 10 to 40 tonne. They are now working towards becoming self-sufficient, which requires an annual production of 250 tonne.
 Scott says, "Our goal is to help them achieve this in the next few years. For the Ashaninka it's a lifeline. It means a vital improvement in the autonomy and quality of life because it allows them to become financially self-sufficient. It also helps them protect the forest, that they have been custodians of for generations, against loggers and drug traffickers. By buying their cacao, it directly supports the ambitious project to save 100 million trees."
Scott says each purchase of Loving Earth chocolate will help the Ashaninka achieve their self-sufficiency goal.
For more information visit www.lovingearth.net
---