Econic

adds Eco-Friendly Booster to Vitally Vitamin Packs September 23, 2019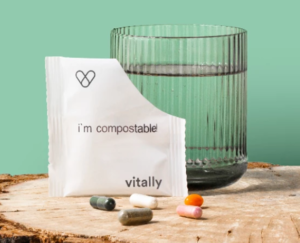 An innovative supplement company is using Econic compostable packaging to provide an eco-friendly convenient service without any single-use plastic.
Auckland-based Vitally Ltd offers personalised daily vitamin packs tailored to suit the unique health and lifestyle needs of each customer. Their commitment to hero their customers' health without harming the planet prompted them to adopt Econic film and offer a composting service for customers not able to compost their used packs themselves.
Vitally owner, Matt Hitchman, says the move to compostable vitamin packs was a direct response to their customers' desire to reduce their use of plastic.
Matt says, "We are aiming to run our business in the most sustainable way possible and our customer survey work showed us that our customers wanted us to move away from plastic. We were already planning to develop compostable vitamin packs and the customer feedback we got pushed that to the top of our priority list. Our customers are really positive about our move to compostable packaging."
Vitally's Econic vitamin packs are made in New Zealand by Convex from a mix of compostable materials derived from sustainably-produced wood pulp and GM-free corn sources. Each film used to make Econic has been certified to either the European or Australian home compostable standards (OK Compost Home or AS5810).
Matt started Vitally after going through his own journey to improve his health and energy. He found the traditional way of selecting and taking vitamins confusing and inconvenient so he decided to find a more straightforward solution. He worked with a nutritionist to develop a simple science-based process where people take a questionnaire and get some recommendations based on their personal lifestyle and health concerns.
Matt says, "There are a lot of people who aren't getting all the nutrients they need from their diet and I was probably one of them. Vitally makes it easy for people to get all the nutrients they need, based on the latest nutritional research and advice. All our vitamins and supplements are formulated by an expert panel to ensure the highest quality and, wherever possible, are made from organic raw ingredients. We also aim to make it as easy as possible for people to take them by providing a flexible monthly subscription where customers can choose their own combination of vitamins or a Vitally personalised supplement program based on their survey results."
 You can find out more about Vitally and order your own personalised vitamin pack at: www.vitally.com  
---