Double

Gold Medal Printing Win for Innovative Compostable Pack May 7, 2019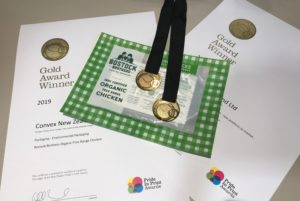 The moisture-resistant EconicClear pack produced and printed by Convex New Zealand Ltd for Bostock Brothers Organic Free Range Chicken was awarded two Gold medals at the 2019 Pride In Print Awards on 3 May.
The gold medals were awarded for innovation in packaging design – new product to market, and environmental packaging.
The double award-winning Bostock pack represents a huge stride forward in functional compostable packaging. Bostock spearheaded the development of the packs by asking Convex to develop a compostable vacuum pack for their organic free range chicken. Because moisture is a catalyst in the natural composting process, the development of moisture-resistant compostable packs was previously considered impossible. Through extensive testing and extrusion innovations, Convex successfully developed a functional compostable pack that works well for meat and other wet products with a shelf life of approximately 10 days.
The majority of Bostock Brothers' moisture-resistant film is made from a combination of compostable films derived from sustainably-managed renewable resources, which have been individually certified to the European and American compostability standards EN 13432 and ASTM6400. The packs are able to be composted in a home compost bin or worm farm, containing heat, water, oxygen, soil and micro-organisms.
Convex managing director Owen Embling says receiving printing industry gold medals for innovation and environmental packaging was particularly satisfying; given Convex's longstanding focus in these areas.
He says, "Innovation has been the backbone of our business since we were established over 40 years' ago and we have been actively developing compostable packaging for over two decades. Winning these awards is a huge reflection of the innovative companies we are working with who are prepared to push the boundaries of packaging design in their industries. Bostock Brothers is a pioneer in their field and we are very proud to be have able to partner with them to produce some award-worthy packaging."
The Pride In Print Awards were established in 1993 to promote excellence in New Zealand printing. The annual awards showcase the highest standards in the industry and the printers who have reached what the Pride In Print website describes as the elite Gold Medal status.
Since 2002, Convex has won 17 gold medals at the New Zealand printing industry Pride in Print Awards, and made the supreme award finals 4 times.
Owen says, "We have built our business on finding ways to do things that were not considered possible, to deliver what our customers want. Receiving recognition from the printing industry for the work we have done for our customers is a great endorsement of the dedication and technical capabilities of our printing and productions teams, and their ongoing striving for excellence."
---