Compostable

Re-Sealable Coffee Bag Launched for Instant Coffee May 6, 2013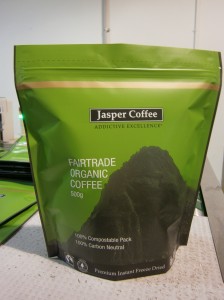 A new compostable re-sealable coffee bag is allowing work places across Australia to easily reduce their carbon footprint by procuring high quality carbon neutral, Colombian Freeze Dried instant coffee for their staff.
Melbourne company Jasper Coffee adopted Econic® compostable bags in early 2013 for the Fairtrade Organic premium instant freeze dried coffee they supply to the corporate market. The new packs feature what is believed to be the world's first compostable zip lock closure.
The re-sealable Econic bags were purpose-designed by Convex to make it easy for Jasper Coffee's corporate users to get their coffee and then close the pack off from the atmosphere, to keep the coffee fresh.
Jasper Coffee Director Wells Trenfield says the Econic bags provide the barriers and sustainable properties they were looking for as well as the closure needed to meet their market demands.
Wells says, "The new Econic pack has allowed us to reinvigorate dialogue within the corporate arena and we've had a lot of success in the short period of time it has been out there. Corporate organisations are looking to reduce their carbon footprint but a lot of them find it very hard to find a way through the quagmire of trying to understand how to do that.  With Econic we can show them how easy it is to take a step towards making this change. They love it because it's so easy for them. All they have to do is purchase our coffee. Our company is 100% Carbon Neutral, the coffee is Fairtrade, the packaging is completely compostable – and they won't get a better cup of coffee."
Launching the Econic re-sealable bags is the latest in a long string of sustainable firsts for Jasper Coffee.  They were the first Fairtrade licensed coffee roaster in Australia; the first Australian company to introduce Fairtrade Organic sugar, drinking chocolate, decaffeinated coffee and pods; the first Australian company to introduce compostable takeaway cups; and the first Australian coffee company certified 100% carbon neutral. Jasper Coffee also boasts the largest range of Fairtrade coffee in Australia, with 17 different varieties.
Wells says, "We have pioneered quite a lot of sustainability elements in our industry over a long period of time. The Econic bag is a good fit with our environmental ethos, and it's allowing us to help other companies become more environmentally responsible as well."
Convex Managing Director, Owen Embling says, "The re-sealable Econic bag is a good example of how we work with our customers to develop the packaging solution they need. We are committed to continue taking a lead in sustainable packaging and to work with innovative companies like Jasper Coffee to help protect the environment."
Jasper Coffee has also recently switched their bulk coffee bags to Econic packaging and is working with Convex to develop compostable Econic coffee pods.
You can find out more about Jasper Coffee by visiting: www.jaspercoffee.com
---