Compost

Service for Vegan Patty Pack Customers May 19, 2019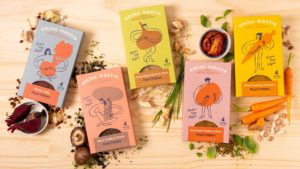 Amino Mantra has demonstrated their commitment to the environment by offering a compost service for their customers' used EconicClear packaging.
The innovative Auckland-based business adopted compostable EconicClear vacuum pouches in April to optimise the sustainability and freshness of their gourmet vegan patties. To help ensure the packs do not end up in landfill, Amino Mantra has invited customers who don't have access to a compost facility to return their used packaging to them for composting.
Managing Director, Pritesh Kajaria says offering a compost service to customers is an important part of their commitment to run a sustainable business.  Amino Mantra has a contract with an organic waste collection service to take their food scraps and used packaging to a commercial facility for composting and it made sense to extend that service to their customers.
Pritesh says, "We have dreamed of having compostable packaging since we first launched, and now, with our recyclable cardboard boxes and new compostable vacuum packs, we're aiming to keep our packaging out of the landfill."
Amino Mantra chose vacuum-sealed EconicClear for their inner packaging following almost five months of research trials to ensure their patties stay fresh.
Pritesh says, "Our products are made from fresh vegetables, seeds, lentils and beans. They don't have any preservatives and vacuum packing is the only technology that will help keep them fresh. We were very pleased to find a compostable fridge and freezer friendly product that is made by a New Zealand company that is very easy to deal with. We are very excited to be working with an innovative company like Convex."
The majority of Amino Mantra's EconicClear vacuum-pack is made from a combination of compostable films derived from sustainably-managed renewable resources, which have been individually certified to the European and American compostability standards EN13432 and ASTM6400. The packs will break down in home compost bin or worm farm, containing heat, water, oxygen, soil and micro-organisms.
Pritesh and his food scientist wife Trang Duong-Kajaria established Amino Mantra to provide nutritionally complete vegan meal solutions that are quick to cook and made with organic ingredients. Ideal for people with celiac conditions, their gluten-free patties contain all nine essential amino acids and are available in a range of mouth-watering flavours such as Black Truffle & Thyme, Caramelised Garlic & Chives, and Fijian Turmeric & Cumin.
You can say hello to Pritesh and sample his gourmet vegan patties on Saturdays at Auckland's Parnell Farmers' market and on Sundays at the Grey Lynn Farmer's market. You can also check them out online at: www.aminomantra.co.nz or www.facebook.com/aminomantra.eatnaked/
---