100

Native Trees Planted to Celebrate 10 Years of Econic July 14, 2020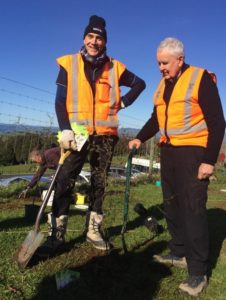 Convex Managing Director, Owen Embling (Left) planting trees with Mrs Rogers owner, Bruce Stoddart.
Convex New Zealand has partnered with a leading ecological sanctuary to help celebrate the 10th anniversary of Econic home compostable packaging.
Twelve Convex team members headed to Sanctuary Mountain Maungatautari on Friday 10 July to plant 100 native kowhai trees around the visitor centre's new car park. Four volunteers from the Auckland-based natural herbs and spices company, Mrs Rogers, also assisted with the planting including their company owner, Bruce Stoddart.
The trees were planted on behalf of Mrs Rogers and long-term Econic customers: Trade Aid New Zealand Ltd, Syndicate Coffee (Australia), Prima Roastery, Jasper Coffee (Australia), Loving Earth (Australia), Kokako, Ceres Organics, Proper Crisps, Celsius Coffee, IncaFé Organic Coffee, The Pet Grocer (Australia) and Lux Organics. Trees were also sponsored and planted on behalf of Convex's long-term sustainability partner Eco-Express Ltd, Yrear Contracting Ltd and 13 Convex employees.
Convex Managing Director, Owen Embling says, "The tree planting was a very exciting and memorable way to mark the upcoming 10th anniversary of Econic, which was launched in October 2010.  Sanctuary Mountain is very innovative in its approach to protecting the environment and we are very proud to be partnering with them. Our aim is to plant thousands more trees there over the next few years."
Surrounded by one of the world's longest pest-proof fences, Sanctuary Mountain is a mainland ecological island approximately 60kms south of Hamilton. Its protected ancient forest offers a predator-free sanctuary for endangered birds, skinks, geckos, frogs, bats and insects.
Owen says Sanctuary Mountain's environmental initiatives are well aligned with Convex's commitment to sustainable packaging, which they have been developing for 25 years.
Owen says, "We developed Econic to provide a functional alternative to traditional plastic packaging, with similar barrier and strength properties. The current available technology has not allowed us to completely move away from fossil fuel-based materials yet but we are on an active quest to do that as soon as suitable renewable materials become available. In the meantime, our tree planting partnership with Sanctuary Mountain will help us offset our gradually decreasing use of petrochemical materials by making a very positive and lasting contribution to the environmental health of a very beautiful part of New Zealand."
Sanctuary Mountain Maungatautari CEO, Phil Lyons, says the tree planting will help with climate change by sequestering carbon and it will also provide a perfect environment for Tui and other birds.
Phil says, "Convex are a really good partner for us because their values are identical. It's all about protecting the environment and always looking at new ways of doing things as well.
In terms of Convex planting 100 kowhai trees to celebrate the 10th anniversary of Econic, Phil Says, "You can't get a more perfect fit can you? Convex are a New Zealand icon, kowhai trees are a New Zealand icon and what better way to celebrate 10 years by bringing the two together."
---