Proper

Crisps Expands Home Compostable Packaging Range December 19, 2019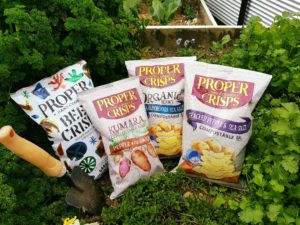 Proper Crisps has made eating tasty snack food more sustainable this year by adopting Econic® compostable packaging for a growing range of their popular hand-cooked crisps.
The eco-conscious Nelson company initially launched two limited edition variants in Econic packaging in March to make the most of the best seasonal spuds at that time: Proper Crisps Organic Potatoes with Marlborough Sea Salt and Purple and Gold Potatoes with Cracked Pepper. This was followed by the launch of a further three variants in Econic in late September/October: Proper Crisps Cracked Pepper and Sea Salt, Kumara Pepper with Onion, and Proper Beer Crisps.
The original limited edition Proper Crisps Purple and Gold Potatoes with Cracked Pepper are expected to be available again when purple potatoes are back in season
The winning combination of the delicious vegan-friendly 100% natural crisps packed in compostable packs has been well received by consumers.
Proper Crisps General Manager Andy Leonard says, "The support for our compostable packaging has been overwhelmingly positive. We've heard of people coming back into the snack food aisle who had stopped buying snack food because of the plastic, and we've had lots of customers excited to tell us how they are composting their used bags at home."
Econic packaging is made in New Zealand by Convex to allow companies like Proper Crisps to reduce their impact on the environment while still retaining the same level of functionality and food safety provided by traditional plastic films.
Andy says, "We are increasingly looking very hard at all aspects of our business to try and be more sustainable.  All our potato scraps are currently being composted in Nelson and we have systems in place to reuse water in our plant that we use for things like washing potatoes. We are now working to find ways to close the loop with our compostable bags by getting our own scrap bags composted and setting up some sort of collection point for our customers to help ensure their used bags end up being composted as well."
"Our home compostable crisps are clearly a winner with our customers and we have decided to keep growing our range. Our plan is to launch more and more of our new products in Econic packaging and potentially some of our existing ones as well."
You can find out more about Proper Crisps at: www.propercrisps.co.nz  or www.facebook.com/propercrisps
---