North

American-Sized EconicKraft Bags Now Available Online July 8, 2021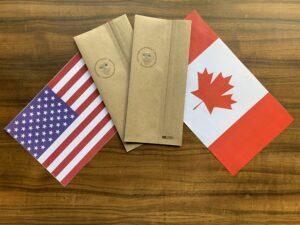 Ready-made Econic®Kraft home compostable bags are now available to purchase online in a pack size purpose-designed for the North American market.
The new packs are designed to hold 12oz/340g of standard density coffee beans and feature printing in both French and English, to meet the bi-lingual labelling requirements in Canada.
The new packs were developed with the help of an innovative coffee roastery and café in Quebec. They wanted to source New Zealand-made home compostable coffee bags in the standard 12oz size used in the USA and Canada.
The new EconicKraft bags are manufactured by Convex New Zealand on behalf of the Econic online store, which is managed by Ember Asset Management. Convex is a HACCP-certified, quality assured approved supplier of food grade packaging and a recognised leader in the development of sustainable packaging.
Ember Asset Management owner, Cyrano Embling, is pleased to be able to offer a fit-for purpose bag to the growing number of North American customers he supplies across the USA and Canada.
Offering a winning combination of a metalized interior with high oxygen and moisture barrier properties and a natural-looking `paper' outer – the EconicKraft bags are ideal for packaging coffee and a variety of other dry goods, including herbal remedies and tea. The packs include a one-way valve to allow the gasses generated from freshly ground coffee to be released, just like standard coffee packaging.
Cyrano says, "It's very important to us that our customers never have to compromise on quality and providing a pack that meets their specific needs is part of that."
Small-run digital printing is also available for the packs through the online store.
You can learn more about the 12oz EconicKraft bags here: http://econicpackaging.com/collections/coffee-bags/products/econic®kraft-coffee-12oz-bag-100-bags
---