Espresso

Syndicate First to Launch Econic in Australia March 11, 2011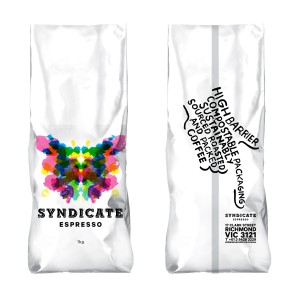 Melbourne-based organic coffee wholesaler Espresso Syndicate has helped make the coffee industry more sustainable by being the first Australian company to use Econic® compostable coffee packaging.
Espresso Syndicate partnered with Convex Australia Pty Ltd in November 2010 to trial Econic® packaging for their 1kg bags of sustainably-sourced fresh roasted coffee beans.
The coffee was distributed to cafes and restaurants throughout Victoria and has received a positive response.
Espresso Syndicate Owner Melissa Floreani says, "Some of our café customers have told us that the coffee packed in Econic actually tastes better. Also, from a sustainability point of view, what we like about the packaging is that it's lighter and can be sealed with a lower heat. That means we are potentially using less energy to seal the bags and the transportation costs are lower because the bags weigh less than standard coffee packaging."
Prior to trialling Econic, Espresso Syndicate spent two years searching for a suitable compostable coffee bag. They had already introduced compostable PLAnet Cups and lids for their take out coffee, but were struggling to find a functional compostable coffee pack. After researching the environmental versus business performance benefits of various types of coffee packaging the company concluded that to be truly sustainable, the bag structure needed to provide a high barrier to oxygen and moisture to compete with world's best practice in coffee packaging.
Melissa says, "We are quite excited to be first to market with this product. It is really important for us to provide socially and environmentally responsible coffee that contributes to a sustainable future for both the coffee industry and the planet. We are really quite dedicated to reducing plastic, especially for single use products, and it's great to have found a coffee pack that really ticks all the boxes for us. The other options we looked at were not particularly sustainable and did not provide a sufficient barrier to retain the coffee's freshness."
Espresso Syndicate initially launched plain Econic bags with their label added to enable it to be cost-effectively tested in the market. Following a successful 11 month trial, Espresso Syndicate adopted Econic as their primary 1kg packaging and will be launching new custom-printed packs in late 2011.
Melissa says, "We are happy with this product and have really made a commitment to it. We are rebranding our 1kg packs with less inks and colours and are looking at using Econic for our retail products as well."
Convex Australia General Manager Brent May says the partnership with Espresso Syndicate provided Convex with a valuable "real situation" to trial the effectiveness and integrity of the Econic film structure.
"It was also important to find a likeminded partner who shared our sustainability outlook," says Brent.  "With Espresso Syndicate's entire business model built around a 'Sustainability first' moniker, it was clear we had found our partner."
You can find out more about Espresso Syndicate by visiting: www.espressosyndicate.com.au
---