Econic

Wraps Ceres Organics RAW GOODNESS Food Bars February 26, 2015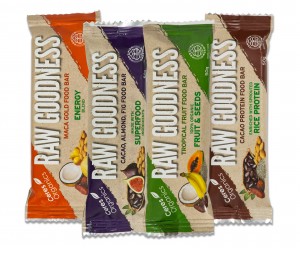 The pioneers of organic food distribution in New Zealand have achieved another first by launching the first Kiwi-made food bars in compostable packaging.
Ceres Enterprises Ltd launched their new range of Ceres Organics RAW GOODNESS food bars in February, wrapped in Convex Econic® film.
Ceres Organics Marketing Manager, Monette Tiu says the Econic wraps have helped them achieve the essence of a true organic product, which is delivering on product quality, integrity and food safety using sustainable, eco-friendly packaging at an affordable price.
Monette says, "RAW GOODNESS bars contain raw ingredients so we need packaging that will keep their quality and integrity. We are very mindful that we need to protect our organic products as they are not filled with preservatives or artificial ingredients. We have been searching for packaging that is compostable and sustainably-sourced because we are committed to preserving the environment, and it's the very nature of who we are as a certified organic company. We also need our packaging to uphold food safety standards and Econic has helped us achieve that."
The RAW GOODNESS compostable wrappers are made by Convex from three compostable films that are laminated together to lock in the packaged product's freshness, taste and flavour. Each film has been internationally certified to the European and American compostability standards EN 13432 and ASTM6400.
RAW GOODNESS food bars are being distributed throughout New Zealand to supermarkets, organic stores, health food stores and selected pharmacies in four flavours: Cacao Almond Fig, Cacao Protein, Maca Gold, and Tropical Fruit.
While it is too soon yet to gauge feedback from consumers, Monette says, "The trade is very enthusiastic and positive about our new RAW GOODNESS food bars, and believe that consumers will love them."
Ceres Organics has been at the forefront of organic food distribution in New Zealand for over 30 years. They opened the country's first organic food store in 1984, and were the first Kiwi company to become a BioGro certified organic distributor and achieve EcoSocial certification in recognition of their ethical and socially responsible sourcing policy.
Monette says Convex has helped Ceres take a lead role in launching a sustainable pack that is kind to the environment.
She says, "It's more than just a supplier relationship that we have with Convex. We're collaborating towards a common goal. Convex is working towards sustainability and that's our aim too. We are very happy with the cooperation and the attention the Convex team has given this project. They are very responsive to our needs. It's a good way of working together."
"RAW GOODNESS are certified organic, taste great and deliver on nutrition. They are good for you and the compostable wraps make them good for the environment as well. So they tick all the boxes. We are definitely going to look at using more packaging of this type."
You can find out more about Ceres Organics by visiting their website: www.ceres.co.nz
---