Econic

Adds Value to Premium Bennetto Drinking Chocolate May 19, 2016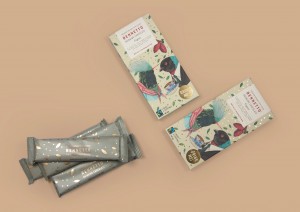 Bennetto
Econic® compostable packaging is helping a growing number of discerning consumers get an added-value taste of high quality sustainable drinking chocolate.
Bennetto Natural Foods Co Ltd are crediting the Econic wraps they use for their premium twin-pack drinking chocolate bars for helping them get ongoing positive responses from high-end retailers and customers. The Christchurch company launched their Bennetto drinking chocolate twin-packs in New Zealand last December and entered the Australian market in May 2016.
Ideal for both drinking and eating – the organic, Fairtrade-certified Bennetto chocolate bars contain 70% cocoa and have been specifically designed to blend perfectly with hot milk.
Company owner, Lucy Bennetto says Econic packaging was a perfect choice for Bennetto. Along with fitting well with their commitment to operate their business as sustainability as possible, the high barriers provided by Econic also helps deliver the high level of freshness and quality their target consumers expect.
Lucy says, "We are targeting a very discerning market who are concerned about the environment and want Fairtrade, rich flavours and clean organic ingredients – so wrapping our chocolate in eco-friendly packaging is working really well for us. When people find out the packaging is compostable it definitely helps in their decision process. They love it, they honestly do. Our target market is responding extremely well to Econic, and view it as adding to the value they're already getting from our premium Fairtrade product."
Econic is made from a combination of compostable films that are laminated together to lock in the freshness, taste and flavour of the packaged products. Each film is derived from sustainably-produced renewable resources and has been internationally certified to the European and American compostability standards (EN 13432 and ASTM6400).
Along with the environmental advantages, Econic has also helped Bennetto transition from manually hand-wrapping each chocolate bar to a faster and more cost-effective flow wrap process.
Lucy says, "The Econic packaging has definitely assisted us in producing something of the highest quality. It functions really well for us and gives us the shelf-life we need to ensure the integrity and quality of our chocolate. It has also helped us automate and speed up production."
Bennetto is available New Zealand-wide through a growing number of high-end retail outlets, including Nosh supermarkets. Bennetto is also available from selected retailers in Western Australia and is in the process of rolling out throughout Australia.
You can find out more at: www.bennetto.co.nz
---