Compostable

Packs Help Cement Celcius Eco-Commitment March 26, 2014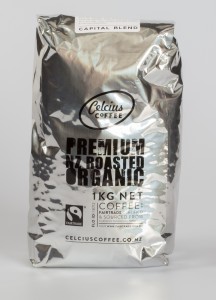 Using compostable coffee packs has allowed award-winning Celcius Coffee to further cement their commitment to be New Zealand's finest `coffee with a conscience'.
The Wellington-based coffee company roasts 100% organic, licenced Fairtrade coffee blends for cafes and work places throughout New Zealand – and is a recognised leader in sustainable business practices.
Celcius Coffee was awarded a Dominion Post Gold Awards, Green Gold Award in 2011 and the Ministry for the Environment (MFE) Green Ribbon Award for 'small business leadership in sustainability' in 2012.
The launch in mid-2013 of a custom-printed silver Econic® compostable pack was a further demonstration of the company's determination to operate their business as responsibly as possible, while still providing top quality coffee.
Celcius Coffee co-owner Steph Fry says the Econic packs are the result of an extensive search for packaging that delivers the sustainability, shelf-life and functionality they wanted for their boutique roasted beans.
Steph says, "We've put ourselves out there as sustainable leaders in the coffee industry and using Econic® bags is just another way we show we are committed to what we are doing. Our packs may look like foil bags, but they're definitely not made of foil."
Celcius Coffee's Econic packaging is made from three compostable films that are laminated together to lock in the freshness, taste and flavour of coffee and dry products.The three films are derived from sustainably-produced wood pulp and GM-free corn sources. Each film has been internationally certified to the European and American compostability standards (EN 13432 and ASTM6400).
Steph, who runs Celcius Coffee with husband Nick says, "Having sustainable packaging is an important part of our offering to our customers.  The Econic bags are ideal for any organisation wanting to operate sustainably and minimise their carbon footprint. The bags offer a sustainable long shelf-life option for our coffee blends – with no harm to the environment. It was really beneficial using them over the Christmas period when we closed down and sent out, in some cases, up to three weeks' supply of coffee to our customers. The Econic bags kept the coffee fresh for the time they needed it."
Celcius Coffee worked with Convex for several years to develop a compostable pack that suited their roasting process. They batch roast their beans and pack them while they are still emitting CO2 gasses. Celcius Coffee initially trialled the packaging using plain silver Econic packs that were branded with their own label.
Steph says, "Once we finished developing the bag and were confident it was performing, we went ahead and got them printed. We now have a custom printed bag that is absolutely fantastic, which we are really happy with."
Econic bags are compostable when disposed of in a composting environment containing heat, water, oxygen, soil and micro-organisms.
You can find out more about Celcius Coffee by visiting: www.celciuscoffee.co.nz
---